We are a draw-it-by-hand, make-it-from-scratch, do-it-together design studio that has set up its operations so we can be personally involved with every single project. Our name comes from the latin word of home, domus, and the colour white. This reflects our view of home décor: your home as a white canvas that has endless possibilities of artistic expression. With our "If you can dream it, you can do it" attitude, we help transform your house into your unique space for self expression with immersive art, through seemingly impossible reflections that create experiential installations. As nature enthusiasts, our work at White Domus draws inspiration from this fundamental form of beauty and familiarity. We literally breathe life into metallic forms and embellish the ordinary into larger-than-life sculptures.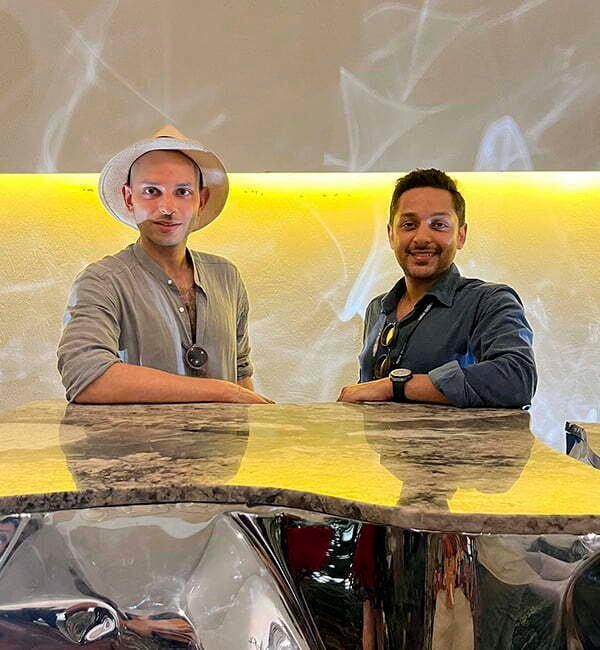 We are Aroosh and Nitush Mahipal, artists, designers, creators and brothers. After completing our business studies in Europe we returned to India and started working in the family line of business with industrial stainless steel.
We created a space to ideate and experiment in our family's factory and took our first steps in design art through projects and collaborations with leading interior designers and architects. It didn't take long for us to realize that we could create something unique.
Our first projects earned us the trust of the industry thanks not only to our unique designs, but also to our unparalleled quality. Working with steel is tricky, but we have mastered the material and work with the best craftsmen to deliver the best quality art.
Are you ready to take a journey into your imagination and make your space an expression of yourself? We'd love to help!
Please fill out the form, so we can learn more about you and your needs.